The Museum of the Great Patriotic War
The Great Patriotic War is a sad and tragic period in the history of Belarus. During the war many Belarusians who defended their native lands and families died. After the liberation of Belarus from German-fascist invaders in 1944 operated a Museum dedicated to military events was opened in Minsk. However, by 2010 it was decided to open a new Museum complex which will represent the history of the war and the Belarusian contribution to the struggle for victory.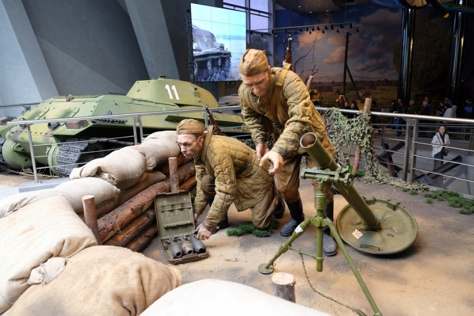 The new building of the Museum, which opened its doors to visitors in 2014, is a harmonious combination of history and modernity. The unique Museum complex occupies the territory of 15 thousand square meters, 3.6 thousand of which are used as the exhibition area with 10 exhibition halls. The Museum Fund also impresses with its scale, containing 143 thousand items.
This Museum will be interesting for both adults and children: the screens in the halls broadcast video chronicle of the war years, and items are represented in an unusual way. For example, the equipment, which was used in battles, is made a part of the installation, representing this or that battle. Each room is decorated thematically. Thus, the first room of the Museum is dedicated to the very beginning of the war and the defence of the Brest fortress, therefore, it looks like the fortress itself. In the hall various documents, items of military life, clothing and weapons are exhibited.
Special attention should be paid to the victory hall, located under a transparent glass dome. In this hall an incredibly peaceful and calm memorial to the fallen soldiers was established. A visit to this Museum will be a great opportunity to get acquainted more closely with the history of the war and the contribution of the Belarusian people to victory.
Другие достопримечательности: